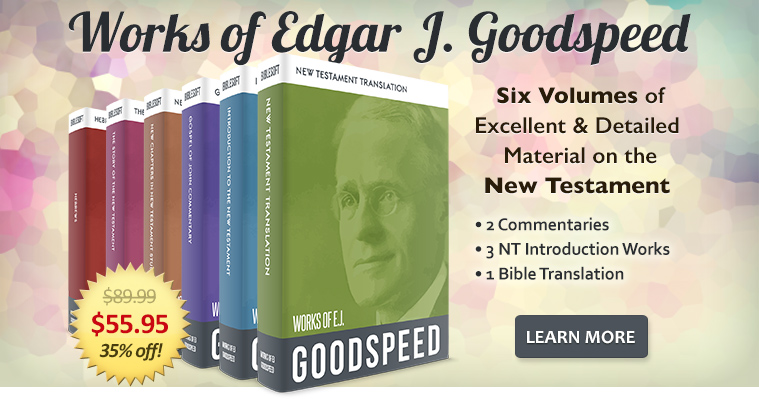 Works of Edgar J. Goodspeed
6 Volumes for New Testament Study
Introducing excellent New Testament scholarship background material from the early 1900's. In an era that saw the transition of Bible scholarship from an environment of belief in Biblical accuracy to doubt and reconstructionism, there are few real heroes. Edgar J. Goodspeed, held a strong view of scriptural inspiration and at the same time exemplified an uncanny understanding of what was going on with research, while producing some of the best manuscript and background work of the era. Widely known for producing one of the earliest credible "modern language" translations of the New Testament in the 20th century, the Goodspeed New Testament, he was also a prolific writer and teacher of New Testament introduction and exegesis.
This bundled set contains excellent and detailed introductory material on individual New Testament books and on the New Testament itself as an historical, credible document. Included in this collection:
Click "Learn More" below to see in-program screenshots and summaries of each work.
SRP: $89.99
Sale: $55.95
Save 35%!
Coupon Savings on NT Study
Save 30% off with coupon code: Goodspeed30


Making of the
New Testament


SRP: $20.00
Coupon: $13.97


Dictionary of
Jesus & the Gospels

SRP: $199.95
Coupon: $125.97


Canon of Scripture
F. F. Bruce

SRP: $28.00
Coupon: $19.57

* Due to licensing restrictions we are unable to offer the following titles at additional discounts: Bauer, Danker, Arndt, and Gingrich Greek-English Lexicon of the New Testament – Third Edition(BDAG), Biblical Counseling Keys, Dictionary of Hermeneutics, MorningStar Premium Library, The Pentecostal Library (Horton), Systematic Theology: An Introduction to Biblical Doctrine, Download and (CD ST42) Versions (Grudem).