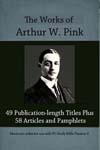 Arthur Walkington Pink (1886-1952) was an itinerant pastor and Bible teacher who is known today for his theological and expository writings, which have gained greatly in circulation and esteem since his death. He was born in Scotland, but after 1910 he lived in the United States, studying briefly at the Moody Bible Institute and serving in several different pastorates. He spent three years in Australia during the 1920's, another year in England (1928), and seven more years in America, during which he preached and wrote without achieving obvious popular success. Most of his works were published as articles in the Bible exposition magazine

Studies in the Scriptures

, which he edited. He recognized the failures of his personal ministry, but also felt God's certain blessing upon his written ministry. He returned to Scotland in 1934, where he lived the rest of his life in virtual isolation.